NOIR ALLEY with FNF prez Eddie Muller is on hiatus for August, so TCM can bring you its annual SUMMER UNDER THE STARS. Eddie will see you Saturday, September 2 for John Brahm's THE LOCKET (1946).
Wednesday, Aug 1, 3:00 AM—
Thursday, Aug 2, 3:00 AM
TCM salutes Frank Sinatra
Here are the noirs....
5:00 PM
THE MAN WITH THE GOLDEN ARM (1955): A recovering heroin addict (Frank Sinatra) struggles to stay clean when returning to Chicago's South side, to old friends and old temptations, after a prison stint. His drug dealer Nifty Louie (Darren McGavin) wants to get his hooks back into Frankie, but his love for Molly (Kim Novak) and his dreams of becoming a jazz drummer keep him on the straight and narrow. When Louie is killed, the cops figure him for the murder and come after him. Dir. Otto Preminger
9:45 PM
SUDDENLY (1954): A gun-hating war widow (Nancy Gates) finds her family and herself at the mercy or a ruthless hit man (Frank Sinatra). It seems that her house would be the perfect spot for his current job, assassinating the U. S. president who will be passing through her small town. Can the town's sheriff, and her ex-boyfriend, (Sterling Hayden) save them? Dir. Lewis Allen
Thursday, Aug 2, 3:00 AM—
Friday, Aug 3, 3:00 AM
TCM salutes Myrna Loy
No noirs, but a NOIR CITY favorite...
3:00 AM
THE THIN MAN (1934): Dashiell Hammett's urbane but fun-loving sleuths Nick and Nora Charles, along with their pup Asta, investigate the disappearance of an inventor in this classic blend of laughs and suspense. Shot in just two weeks by director Woody "One-Shot'' Van Dyke and cinematographer James Wong Howe, this gem set the gold standard for the sophisticated comedy—inspiring five sequels as well as countless inferior imitations. Van Dyke previously directed Myrna Loy and William Powell in Manhattan Melodrama and spotted the terrific chemistry of their off-screen banter between takes. He insisted on casting the pair as Hammett's hard-drinking super-couple and the glamorous pair became one of the movies' great romantic teams. Shot by the legendary cinematographer James Wong Howe. The film garnered four Oscar nominations, Best Picture, Best Actor in a Leading Role for Powell, Best Director for W.S. Van Dyke Best Writing, Adaptation for Frances Goodrich and Albert Hackett. Dir. Woody Van Dyke
Monday, August 6, 3:00 AM—
Tuesday, August 7, 3:00 AM
TCM salutes FNF favorite Audrey Totter
Here are the noirs...
5:00 AM
THE POSTMAN ALWAYS RINGS TWICE (1946): In this noir classic, illicit lovers (John Garfield and Lana Turner) plot to kill the woman's older husband. She wants to own her own restaurant, the eternal ambition of heroines created by James M. Cain, author of the original novel. The producers managed to stay quite faithful to the book while excising the sadomasochistic nature of the character's sexual relationship. Dir. Tay Garnett
12:30 PM
MAN IN THE DARK (1953): The former criminal associates of amnesiac Steve Rawley (Edmond O'Brien) kidnap him from the hospital where he's undergone surgery to help him overcome his criminal past and resulted in his memory loss. They're after the loot he hid prior to his surgery. Originally shot and presented in 3-D. Dir. Lew Landers
2:00 PM
THE SELLOUT (1951): Big-city newspaper Editor Haven D. Allridge (Walter Pidgeon) crusades to smash a small-town sheriff Burke (Thomas Gomez) after falling victim to his corruption. After Allridge is suddenly intimidated into silence, state's attorney Chick Johnson (John Hodiak) continues the fight for right. He discovers that the sheriff is keeping Allridge quiet by threatening to reveal the criminal activities of Allridges son-in-law Randy Stanton (Cameron Mitchell). Audrey Totter plays the tart with the golden heart sent after Chick to lead him astray. Dir. Gerald Mayer
3:30 PM
THE SET-UP (1949): Ignoring the pleas of his wife (Audrey Totter), veteran boxer Stoker Thompson (Robert Ryan) agrees to one last bout, unaware his manager has made a deal with a local gangster for him to take a dive. Presented in "real time" (the 72 minutes before, during, and after Thompson's last stand), The Set-Up was the favorite film of star Ryan's, who proudly displayed the prowess that made him a collegiate boxing champ. Dir. Robert Wise
5:00 PM
TENSION (1950): A cuckolded husband (Richard Basehart) plans the perfect murder to dispose of his wife's lover. Then he finds true love with an understanding neighbor (Cyd Charisse) and decides against implementing his plot. Unfortunately, he becomes the prime suspect when somebody else kills his previously intended victim. Audrey Totter shines as his devious mate. Dir. John Berry
7:00 PM
HIGH WALL (1947): Quintessential postwar noir! Brain-damaged vet Robert Taylor confesses to murdering his unfaithful wife and is sentenced to a sanitarium. His doctor (sexy Audrey Totter) gradually realizes he might not be guilty. Taylor gives his best performance ever in this neglected gem, which glistens with director Curtis Bernhardt's feverish rain-soaked noirscapes. Dir. Curtis Bernhardt
9:00 PM
LADY IN THE LAKE (1947): A lady editor (Audrey Totter) hires Phillip Marlowe to investigate the disappearance of her boss' wife. First time director Robert Montgomery, who also starred as Marlowe, chose to shoot the entire film from Marlowe's POV using a subjective camera to visually replicate Raymond Chandler's first-person narrative from the novel. Dir. Robert Montgomery
11:00 PM
THE UNSUSPECTED (1947): The star and producer of a radio crime series, a rather nasty Claude Rains, commits the perfect crime to cover some irregularities concerning his late niece's estate, only to have his plans thwarted when his niece Constance Bennett is found alive and well. Audrey Totter plays her slutty cousin who stole her fiancé and now has designs on her husband. Dir. Michael Curtiz
Thursday, August 9, 3:00 AM—
Friday, August 10, 3:00 AM
TCM salutes Walter Matthau
We think noir fans will enjoy these…
9:15 PM
THE TAKING OF PELHAM ONE TWO THREE (1974): Lieutenant Garber (Walter Matthau) races the clock to thwart the plot of four criminals Blue (Robert Shaw), Green (Martin Balsam), Grey (Hector Elizondo) & Brown (Earl Hindman). They're holding a subway car full of passenger's hostage and threaten to shoot one each minute until a one-million-dollar ransom is fully paid. Dir. Joseph Sargent
11:15 PM
CHARLEY VARRICK (1973): Meet Charley Varrick (Walter Matthau), Last of the Independents—at one point, the movie's title. Charley's a smart, methodical criminal, so when a robbery at a tiny New Mexico bank nets him way more money than it should, he knows he's in deep. Soon, he's got to outthink the Mafia, outwit his partner, and outrun the cops. This whip-smart underdog story is Don Siegel at his best and includes many members of his colorful stock company: Andy Robinson (Dirty Harry), Sheree North, John Vernon—plus Joe Don Baker memorably playing a hit man named Molly. Dir. Don Siegel
Sunday, August 12, 3:00 AM—
Monday, August 13, 3:00 AM
TCM salutes Doris Day
Believe it or not, something for noir lovers…
1:00 AM
JULIE (1956): Doris Day crosses over to the dark side, in this ultimate example of the "woman-in-peril" film. Shot on-location in Carmel and San Francisco, it literally takes the "husband from hell" premise to new heights in an off-the-charts climax that finds stewardess Day fighting for her life aboard a soaring airliner. Implausibility is steamrolled with berserk gusto, leaving the audience helplessly entertained. Louis Jordan plays Julie's dangerous spouse. Barry Sullivan co-stars. Dir. Andrew L. Stone
Wednesday, Aug 22, 3:00 AM — Thursday, August 23, 3:00 AM
TCM salutes Dana Andrews
Here are the noirs...
7:00 AM
BEYOND A REASONABLE DOUBT (1956): At the behest of his future father-in law, newspaper editor Austin Spenser, Tom Garret (Dana Andrews)—a novelist and opponent of capital punishment—frames himself for the murder of a stripper to prove the fallibility of circumstantial evidence. The pair callously decides against taking Garret's fiancée (Joan Fontaine) into their confidence. Dir. Fritz Lang
8:30 AM
WHILE THE CITY SLEEPS (1956): The owner of a big city news conglomerate dies, leaving it to his ne'er-do-well son (Vincent Price). Said son decides to create a competition among the heads of each department: Dana Andrews, George Sanders, Thomas Mitchell and James Craig. Whoever can discover the identity of the "Lipstick Killer" terrorizing the city will be the new executive editor. Ids Lupino gives a memorable performance as a cynical reporter in cahoots with Sanders. Dir. Fritz Lang
12:15 PM
CURSE OF THE DEMON (1957): An American psychologist (Dana Andrews) travels to England to discredit the occult beliefs of the "Demon Cult." He's aided by a feisty schoolteacher (Peggy Cummins) whose father may have been killed by the Satanists. This suggestive and suspenseful sojourn into the Black Arts is one of the most spellbinding horror films ever made. Dir. Jacques Tourneur
6:30 PM
WHERE THE SIDEWALK ENDS (1950): A gritty film noir about a detective (Dana Andrews) with a strong hatred of crooks who accidentally kills a suspect and must confront his conscience when an innocent man is accused of the crime. To further complicate matters, he falls for the victim's estranged wife (Gene Tierney). Dir: Otto Preminger
8:30 PM
FALLEN ANGEL (1945): Dana Andrews stars as a charismatic grifter who courts and weds a sheltered spinster, Alice Faye in a warmly wonderful performance, in order to obtain enough money to win his real object of desire, the local floozy (Linda Darnell). His plans go awry when the floozy turns up murdered. Dir: Otto Preminger
Thursday, August 23, 3:00 AM—
Friday, August 24, 2018
TCM salutes Virginia Mayo
Here are the noirs...
5:00 PM
FLAXY MARTIN (1949): Treacherous show girl Flaxy Martin (Virginia Mayo), seduces a lawyer (Zachary Scott) who wishes to stop defending mobsters. When he finds himself on the way to jail after Flaxy double crosses him, he escapes to find the real culprit and clear himself. Nice girl Dorothy Malone gives him a hand. Dir. Richard Bare
6:45 PM
BACKFIRE (1950): A veteran (Gordon MacRae), recovering from multiple surgeries, tries to clear an old friend (Edmond O'Brien) of a murder charge with the help of his nurse (Virginia Mayo) and a mysterious woman (Viveca Lindfors). Dir. Vincent Sherman
Friday, August 24, 3:00 AM—
Saturday, August 25, 3:00 AM
TCM salutes Peter Lorre
Here are the noirs...
3:00 AM
THE FACE BEHIND THE MASK (1941): When a fire leaves him hideously scarred, an immigrant (Peter Lorre) turns to crime. Evelyn Keyes plays the blind beauty who falls for him. Dir. Robert Florey
7:00 PM
CRIME AND PUNISHMENT (1935): In this updated adaptation of Dostoyevsky's masterpiece, impoverished student Roderick Raskolnikov (Peter Lorre) attempts to put philosophy into practice, by murdering an unscrupulous pawnbroker in the belief that his own intelligence raises him above the law. He finds his intelligence no match for Insp. Porfiry (Edward Arnold) who plays with him like a cat with a mouse. Roderick also discover that philosophy can't overcome his conscious awakened by a sympathetic prostitute, Sonya (Marian Marsh). Dir. Josef von Sternberg
8:45 PM
THE MASK OF DIMITRIOS (1944): The eternal noir duo of Sydney Greenstreet and Peter Lorre star in this film adaptation of the Eric Ambler novel which also features Zachary Scott in his film debut. Novelist Cornelius Leyden (Lorre) investigates the mysterious death of international criminal Dimitrios Makopoulus (Scott) after Dimitrios' body is discovered in Istanbul. The mysterious Peters (Greenstreet) encourages Leyden and promises him a financial reward. But what is Peters' motivation for the investigation? The always wonderful character actress Fay Emerson plays a supporting role as a lover formerly fleeced by Dimitrios. Dir. Jean Negulesco
Monday, August 27, 3:00 AM—
Tuesday, August 28, 3:00 AM
TCM salutes Agnes Moorehead
Here are the noirs...
11:15 AM
CAGED (1950): This film noir in women-in-prison clothing details the transformation of a young, naïve and pregnant widow (Eleanor Parker) into a hardened convict. She learns the hard way how to survive in the big house from a sadistic prison guard (Hope Emerson) and the failure of a good-hearted warden (Agnes Moorehead) to reform the prison. This is more than an exploitation flick, it's an intelligent social drama and raises a still prescient issue facing the American penal system, is it reforming first time offenders or just turning prisoners into career criminals? Nominated for three Oscars including Best Actress for Parker and Supporting Actress for Emerson. Dir. John Cromwell
3:45 PM
JOURNEY INTO FEAR (1942): This playful film features Joseph Cotten, who adapted the novel for the screen, as a munitions expert who gets tangled up in an espionage plot in Turkey. Watch for Orson Welles as an amorous army officer. Karl Struss served as director of photography. Dir. Norman Foster & Orson Welles (uncred.)
9:00 PM
HUSH… HUSH, SWEET CHARLOTTE (1964): Southern Gothic horror meets film noir in this tale of a possibly mad woman, Charlotte of the title, Bette Davis, who hopes that the arrival of her cousin, Olivia de Havilland, might mean an ally in her fight to keep the government from seizing her home. Charlotte's instability and isolation stem from the night 37 years before when someone beheaded her married lover. Dir: Robert Aldrich
Tuesday, August 28, 3:00 AM—
Wednesday, August 29, 3:00 AM
TCM salutes Lew Ayres
Here are the noirs...
12:30 PM
THE UNFAITHFUL (1947): Pulp writer David Goodis penned the screenplay for this clever reworking of Somerset Maughn's The Letter. A married woman (Ann Sheridan) kills a man in self-defense. Her lawyer (Lew Ayres) soon discovers the murdered man was the woman's lover. The story transcends its noirish trappings, to reveal a fine drama about war time marriage and infidelity. Highly recommended. Dir. Vincent Sherman
2:30 PM
ADVISE & CONSENT (1962): The President of the United States (Franchot Tone) nominates the controversial Robert A. Leffingwell (Henry Fonda) to the post of Secretary of State. The political machinations began immediately as the Senate debates whether to confirm the appointment. A ruthless politician, dead set against Leffingwell, tries to blackmail junior Senator Brig Anderson (Don Murray) the chair of the subcommittee reviewing the appointment, by threatening to reveal his homosexual past. Lew Ayres, Walter Pidgeon, Charles Laughton, Peter Lawford, Gene Tierney, and Burgess Meredith round out the all-star cast. Dir. Otto Preminger
Wednesday, August 29, 3:00 AM—
Thursday, August 30, 3:00 AM
TCM salutes Lauren Bacall
Here are the noirs...
3:00 AM
DARK PASSAGE (1947): Adapted from a story by David Goodis, this noir follows convicted wife murderer Vincent Parry's (Humphrey Bogart) escape from jail and subsequent hunt for the real killer of his wife. Sympathetic stranger Irene (Lauren Bacall) encounters him during his jail break and aids him. Agnes Moorehead steals the show as Irene's shrewish friend who knew Vincent and his wife prior to the murder. Dir. Delmer Daves
5:00 AM
BACALL ON BOGART (1988): Lauren Bacall hosts this extraordinary documentary on her life on- and off-screen with her late husband, Humphrey Bogart. The pair made several seminal noirs together Howard Hawks' The Big Sleep (1946), Delmer Daves' Dark Passage (1947) and John Huston's Key Largo (1948). Bogart also starred in the film noir that started the genre, John Huston's The Maltese Falcon (1939). Dir. David Heeley
6:30 AM
TO HAVE AND HAVE NOT (1944): Watch Bogie and Baby fall in love on and off the screen in this classic adventure tale. A skipper-for-hire's (Humphrey Bogart) romance with a beautiful drifter and bar singer (Lauren Bacall) is complicated by his growing involvement with the French resistance. Walter Brennan plays the drunken first mate and Hoagie Carmichael plays Bacall's accompanist. Dir. Howard Hawks
10:30 AM
YOUNG MAN WITH A HORN (1950): In this noir musical, Smoke Willoughby (Hoagy Carmichael) reminisces about his friend Rick Martin (Kirk Douglas). Aspiring jazz trumpeter Rick is torn between an honest singer (Doris Day) and a narcissistic, and possibly lesbian, heiress played by Lauren Bacall in an unusually unsympathetic role. Fame, fortune, grief and madness follow. Script writers Carl Foreman and Edmund H. North adapted Dorothy Baker's book which in turn was inspired by Jazz legend's Bix Beiderbecke's musical life. Harry James supplied Douglas' trumpet solos. Dir. Michael Curtiz
5:00 PM
THE BIG SLEEP (1946): In Howard Hawks' clever and sophisticated adaptation of Raymond Chandler's novel, private eye Philip Marlowe's (Humphrey Bogart) investigates the involvement of an opium addled (and nymphomaniacal) society girl (Martha Vickers) in the murder of a pornographer. He also must determine if her sister (Lauren Bacall) is helping or hindering him. Dir. Howard Hawks
7:00 PM
KEY LARGO (1948): A returning veteran (Humphrey Bogart) tangles with a ruthless gangster (Edward G. Robinson) during a hurricane while falling for his dead war buddy's widow (Lauren Bacall). Claire Trevor steals the film with her Oscar winning performance as the gangster's alcoholic and emotionally abused girlfriend. Dir. John Huston
Friday, August 31, 3:00 AM—
Saturday, September 1, 3:00 AM
TCM salutes Joan Crawford
Here are the noirs...
1:00 PM
HUMORESQUE (1946): Noirish romance about an equally talented and narcissistic classical musician (John Garfield) from the New York slums who falls in love with wealthy neurotic (Joan Crawford) with expectedly problematic results. Crawford's performance as a self-destructive alcoholic raises the level of the film beyond its melodramatic script. Dir. Jean Negulesco
5:00 PM
SUDDEN FEAR (1952): A playwright (Joan Crawford) falls in love with and marries an actor (Jack Palance) the she previously fired from the production of one of her plays. When she realizes that he and his girlfriend (Gloria Grahame) are plotting to kill her, she decides to turn the tables. Shot on location in a shadowy San Francisco by cinematographer Charles Lang who earned an Oscar nomination for his work. Crawford and Palance also earned Oscar nods.  Dir. David Miller
12:45 AM
WHAT EVER HAPPENED TO BABY JANE? (1962) A crazed, aging star (Bette Davis) torments her sister (Joan Crawford) in a decaying Hollywood mansion. This beautiful Hollywood gothic noir features a duet of superbly fearless performances by two legendary actresses. Nominated for five Oscars, but only one win, Best Costume Design, Black-and-White for Norma Koch Dir. Robert Aldrich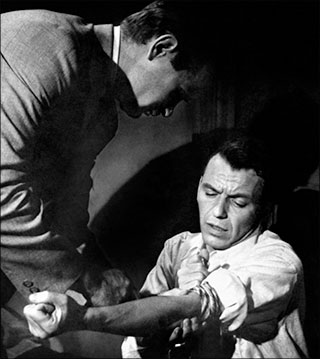 Frank Sinatra stars in Otto Preminger's The Man with the Golden Arm on August 1
Frank Sinatra—hitman—in Suddenly screening August 1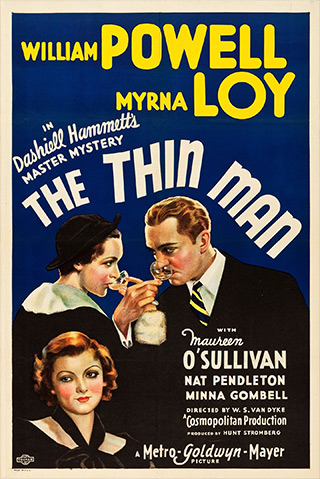 Myrna Loy and William Powell in The Thin Man on August 2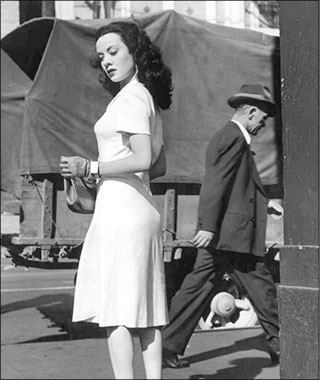 Audrey Totter in The Postman Always Rings Twice on August 6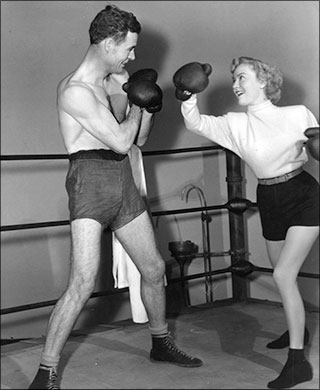 Robert Ryan and Audrey Totter in The Set-Up on August 6
Audrey Totter stars in High Wall on August 6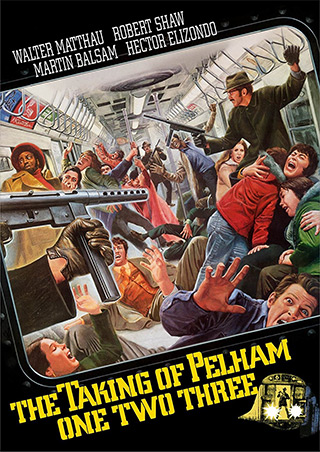 Subway noir—Walter Matthau in The Taking of Pelham One Two Three on August 9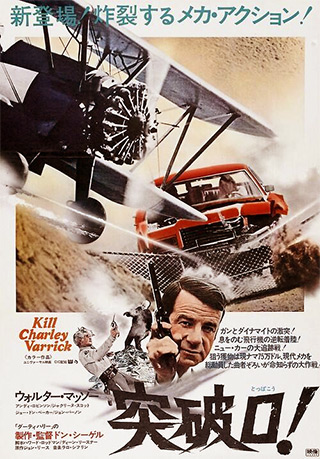 Walter Matthau stars in Charley Varrick on August 9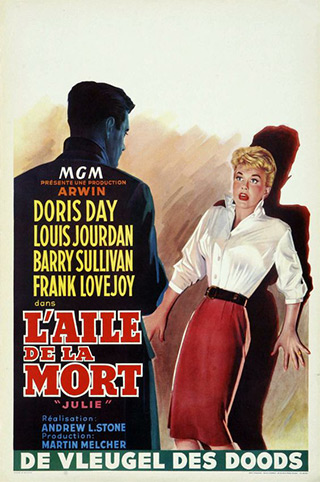 Doris Day flies against all odds in Julie screening August 12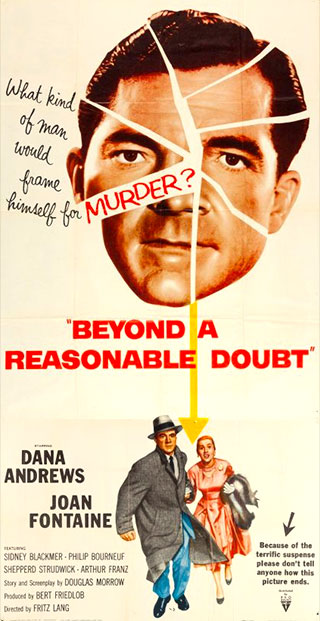 Dana Andrews and Joan Fontaine in Beyond a Reasonable Doubt on August 22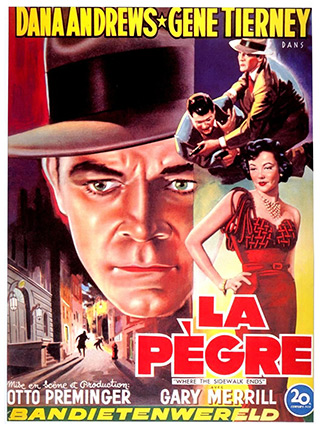 Dana Andrews in Otto Preminger's While the City Sleeps on August 22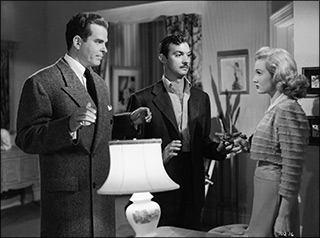 Virginia Mayo and Zachary Scott in Flaxy Martin on August 23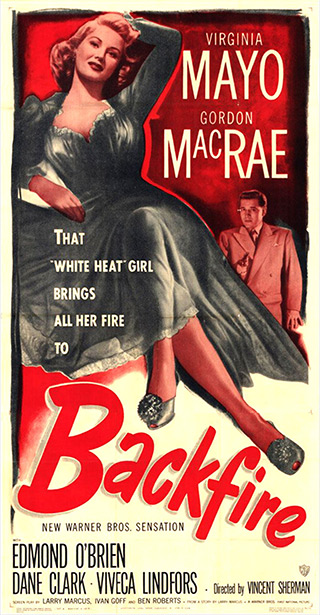 Virginia Mayo and Gordon MacRae in Backfire screening August 23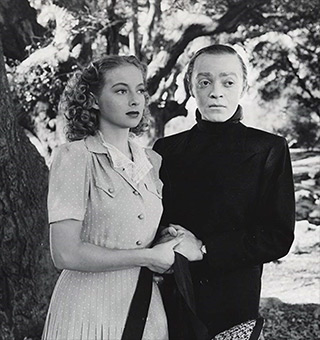 Peter Lorre and Evelyn Keyes in The Face behind the Mask on August 24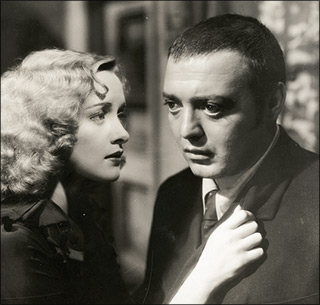 Marian Marsh and Peter Lorre in Josef von Sternberg's Crime and Punishment on August 24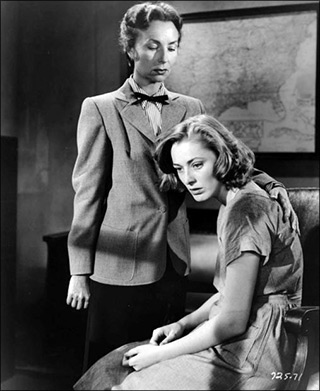 Agnes Moorehad and Eleanor Parker in an unfliching prison drama Caged on August 27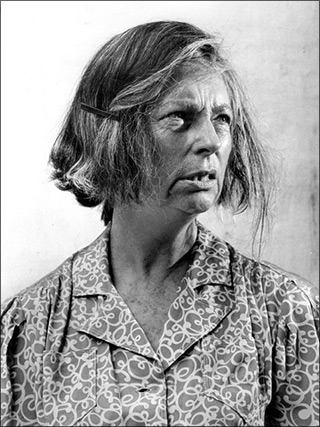 Agnes Moorehad in Hush... Hush, Sweet Charlotte on August 27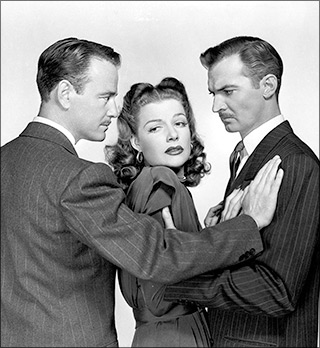 Lew Ayres, Ann Sheridan and Zachary Scott in Vincent Sherman's adaptation of The Letter on August 28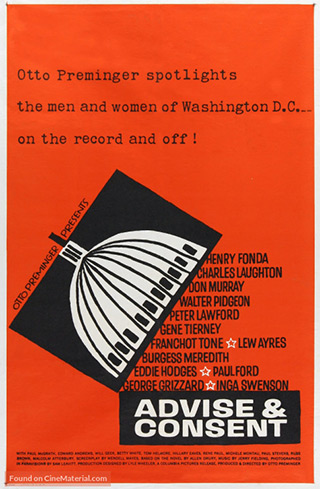 Lew Ayres with a stellar cast in Otto Preminger's Advise and Consent on August 29
Bacall + Bogey + late 40's San Francisco in Dark Passage on August 29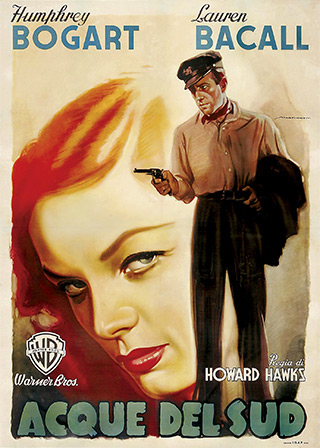 Lauren Bacall's film debut in To Have and Have Not on August 29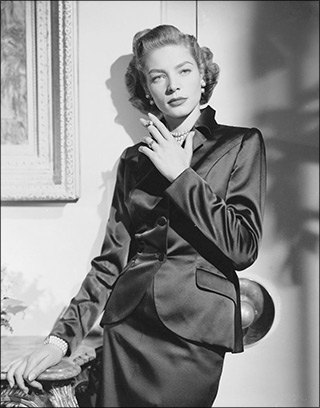 Lauren Bacall in Young Man with a Horn on August 29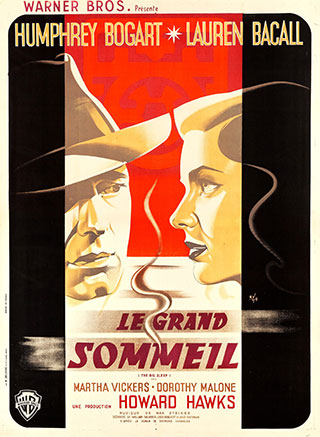 The Big Sleep with Bacall & Bogey on August 29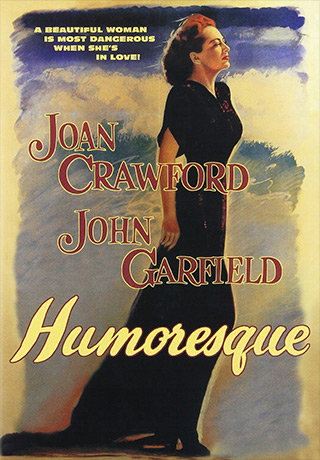 Joan Crawford and John Garfield in Humoresque August 31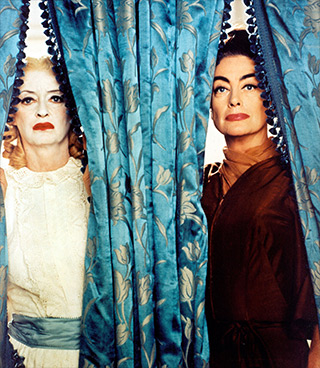 Bette Davis v. Joan Crawford in What Ever Happened to Baby Jane on September 1